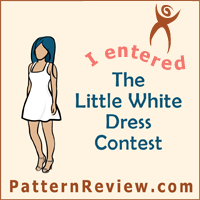 So, I am going to enter my first sewing contest on Pattern Review!
The first contest for the year is the Little White Dress Contest.
Similar to the LBD, the LWD is a staple piece that can be worn for both day and night.
My original idea when just hearing the name was to do a fabulous vintage-inspired dress with a fringe skirt. But after reading the rules of the contest, that quickly seemed inappropriate for daytime. Therefore the idea was scratched for something more day time appropriate. I mean, you could wear a fringe skirt to work if you wanted. I would. But I also work for myself. And considering that in order to win I need to collect votes, something safer seemed necessary.

I resorted to a fabric I almost got rid of, actually.
I bought it to make a coat for the holidays. Something knee length that could be worn as the statement piece. But I lost my nerve. No way could little ol' me in a small town pull off something so chic and elegant. A cape is overkill here. (But I do love capes. And crepes for that matter.)
Who do you think I am, Olivia Pope?!

Luckily I did not get rid of this piece of material and since it was the only almost solid white piece in my collection other than white lace I already have other plans for I chose to "make it work."
Yep, now I'm bringing Tim Gunn into this.
This is a creamy white boucle with opalescent threads woven in, backed with white tricot interfacing.
I am going to use two Simplicity patterns to make this dress.
I am using the bodice from 1650 which is princess seamed and combining it with 2444's skirt that is pleated diagonally towards the center.
I am going to add white piping details for a fashionable touch.

I am hoping this dress whips together quickly!
Just one more week until I need to enter it in the running!
Wish me luck.
Love, Katie